"To my existence no meaning will be given, I must find it for myself... I feel myself at one with the cosmos - when I am climbing. And then only if through extreme stress, and concentration on the greatest difficulties, I reach a state in which my ego disolves itself... In order to experience this oneness with the world, I must go to the limits of my physical ability."
Reinhold Messner, The Crystal Horizon (pg.87)
No i am not Reinhold Messner, nor do i desire to be him (or anyone else), nor do i attempt to put myself in the same realm as his experience. I do though, share a passion and spirit for climbing and pushing to the physical limit.

I grew up in Sydney, Australia in suburbia. Two amazing role models as parents passed on to me a drive and resillience for hard work - and not stopping until the job is done, or at least as much of it that can be achieved at the time.

My fathers passion and skills as a builder and architect led me on a path into the construction industry, prior to completing high school - as i wasn't particularly a classroom type person. A trade in steel fabrication led to 6 years experience in that field before i moved into working with my father as a pseudo builder alongside him for a couple of years.

Then a six month travelling journey through South East Asia opened up a new horizon for me.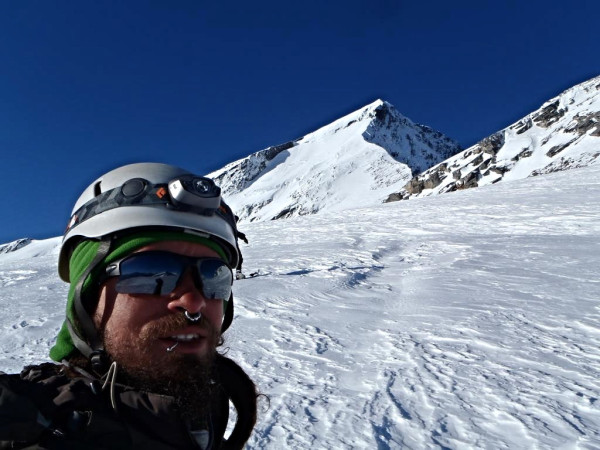 Whilst travelling, various opportunities presented themselves and enabled me to futher explore adventure activities which i had long dreamed about. Climbing in Thailand, Trekking in Nepal, Caving in Laos and my first 3000m ascent in Vietnam. These were all wonderfully exciting and challenging endeavours which drew me in ever more - first the dream, then the planning, then the commitment and then the learning and growth. Through each time i had an adventure i developed not only more physical 'hard skills', though through opportunity i also developed more teaching skills (which i later realised had come from my mother and her passion as a teacher of challenged students).

Crashing a motorbike in Vietnam forced an opportunity of reflection and solitude of where i was and where i was going. The decision was made to enter the outdoors and share challenging experiences with people through guided activities.

Upon my return to Australia i engaged in an 8 month internship with
Outward Bound Australia to start my journey as a facillitator of
Adventure Based Learning programmes. As i gained experience i also
gained momentum in my adventurous pursuits - seeking out  challenge where i could find it.

I have been with Outward Bound Australia since 2011 and am currently the Program Coordinator for the Victorian State base. This time has given me an opportunity to see countless people - school students, challenged youth, adults, staff - all face challenge in any ways shape or form in an environment of encouragement and choice. The growth i have opportunity to witness in people has been inspirational to say the least.

Where am i going with this story? - Challenge by Choice, it is a common theme in the Adventure Based Learning environment and rightly so. It is also one i am quite passionate about. i have always found that when i have been so committed to something, so passionate, so driven, that i am willing and able to push myself to my own physical, mental, emotional, intellectual, all of my limits and then surpass them each time.
I love to climb - it scares me at times, its technically difficult at times, its physically demanding at times, it is always a challenge. It is also an opportunity to encouter all these things willingly. It is an opportunity to know your body mind and spirit so well that standing on you tip toes, using the friction of small rock crystals under those toes, 100+ m above the ground, on a near vertical rock face - becomes comfortable. So comfortable that your heart rate slows and you can breathe out and let go of the rock with your hands to have a rest - and remember that you are there because as challenging as it is, the rewards are far greater.